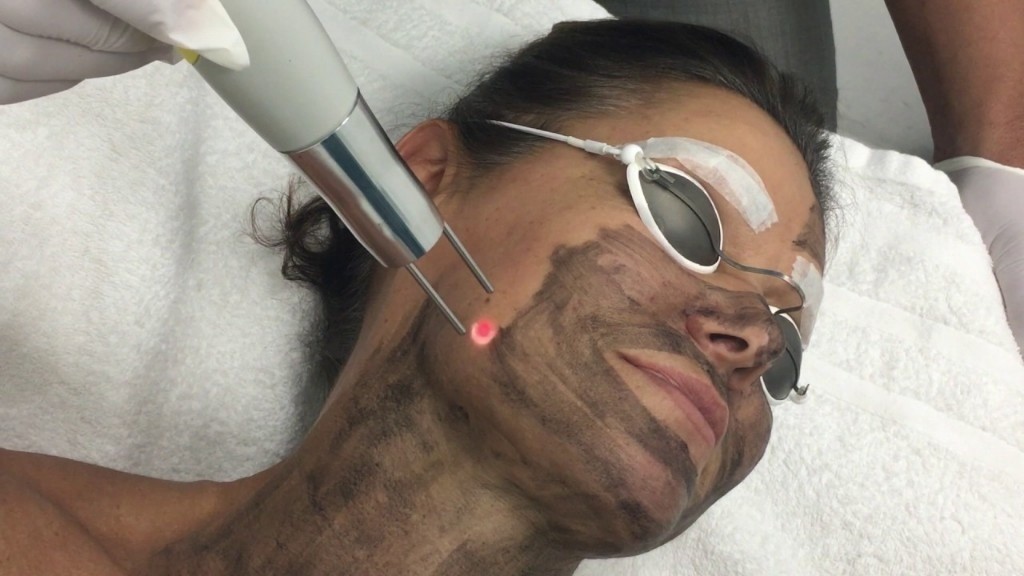 If you have acne-prone, oily skin and are always struggling with enlarged pores and blackheads; carbon laser peel therapy is right for you. This treatment involves gently heating the skin and removing acne-causing bacteria by applying precise laser light. This procedure also improves uneven and dull skin tone, resulting in brighter skin than before. The laser shrinks the pores, which helps to minimize the production of oil and regulate oily skin.
How Does The Carbon Laser Peel Work?
After removing the makeup, your cosmetic doctor will prep the skin with a gentle cleanser to enable greater laser absorption. A two-phase procedure is used in the carbon laser peel. A carbon lotion is applied to the skin during the initial step. A 1060nm wavelength laser is then directed into the dermis, causing controlled thermal damage to assist in healing. Elastin, collagen, and fibroblasts are rebuilt, revitalizing the skin and reducing wrinkles and fine lines. The warmth also stimulates pore shrinkage, making it ideal for patients with enlarged, clogged pores.
This high vitality treatment targets acne-prone skin and skin breakouts by going right into the skin membrane and removing acne-causing bacteria, decreasing skin irritation and inflammation. The carbon lotion is then dissolved with the laser treatment. The carbon is subsequently broken down into little particles, which the laser absorbs.
What Are The Advantages Of The Carbon Laser Peel Treatment?
Noticeable Results
You'll see benefits from the first session and continue to improve as time goes on. To achieve the best results, many clients would repeat carbon laser peel once per 4-6 weeks or immediately before a major event. It's especially popular among upcoming brides and grooms, TV stars, and those planning a significant social event.
Minimal To No Downtime
Because the Carbon Laser treatment is minimally invasive, you will recover fast and be ready to face life with glowing skin. After the treatment, some clients may feel slight redness, which will go away in a day or two.
Safe On All Skin Types
All skin types can benefit from a Carbon Laser treatment. Because of the carbon's absorbent properties, it's especially good for individuals with oily or clogged skin.
Uneven skin tone and texture, dull, lackluster skin, open pores, acne and congestion, sun-damaged skin, and hyperpigmentation could be addressed with the Carbon Laser.
Carbon Laser treatments could be used with other skin therapies such as LED light therapy, microdermabrasion, moisturizing masks, and active substance ampules.
How Can Carbon Laser Peel Help Me?
Carbon Laser Peel is ideal for males and females of every age and helps reduce the appearance of wrinkles and fine lines, acne, pigmentation, poor or dull skin tone, big pores, and other early indicators of aging.
How Long Does It Take to Get a Carbon Laser Peel?
The procedure takes around an hour, and the results are immediately evident. Your skin will instantly brighten, and it will feel softer and smoother than it has in the past.
Carbon Laser Peel Side Effects?
The Carbon Peel is a completely safe skin treatment that has not been connected to any severe skin problems or painful side effects. You might observe some little redness and tingling once the treatment is done, but this will go the next day.
How Often Can You Get Carbon Laser Peel?
After just a single session, you'll notice that your skin has significantly improved. Better collagen production, less oiliness, and firmer, luminous skin may all be achieved with a treatment regimen of 4 – 5 sessions separated 2-4 weeks. We prefer to consider this as a monthly maintenance facial that will give you great skin no matter what type your skin is!